19 septembre 2010
7
19
/

09
/

septembre
/

2010
19:35
A friend asked me recently if I had done anything with the house yet or rather as she put it if I had "undone" anything. It's a work in progress and I need time... But, even before I had my bed in the room, I needed to undo something. This was my very first (and "very number one") project. Have you guessed? Do you remember that wall?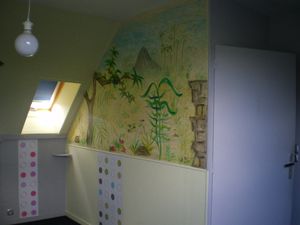 I had never held a brush or anything before, but I thought "What the ...? I can't do worse, now, can I?"
So here I am at work...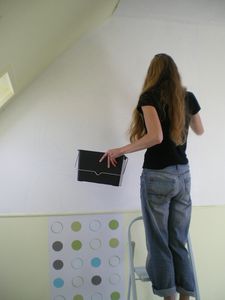 Mylène, if you read that post, these are the old jeans you wanted me to throw away. They are actually very useful!!!
I chose to have that wall white because a) the room is already very colorful (pink, grey and yellow, yeah, I know, yuck!) and b) there was no way I would find the exact same yellow or same grey...
So, this is my first before/after: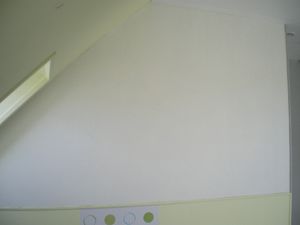 Tadam!
I shouldn't say it really, but actually, it's not as perfect as the picture shows it: you can still slightly see the green leaves... But, I will redo it when I know what I'll do with the room.
The cottage style is slowly creeping in the Little White House, regardless of the awful previous owners paintings...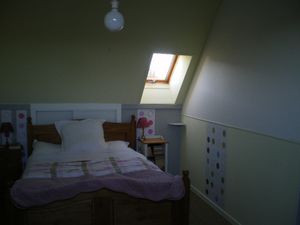 Sweet dreams to you all,