20 octobre 2010
3
20
/

10
/

octobre
/

2010
16:40
I never ever decorated my house for Hallowe'en. But two weekends ago, we had the rainiest Sunday ever, a colleague of mine had talked about the Hallowe'en decoration she wanted her pupils to make, and off I went gathering things that seemed Halloweeny to me. I didn't buy anything special except for the Jack O'lantern... I'm so clumsy I thought I might loose a finger if I tried carving a pumpkin by myself. It's all very small and simple.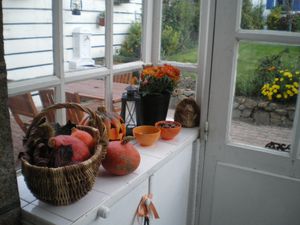 The hazelnuts in the small orange bowls are from my garden, the smallest squash (called "potimarron", couldn't find an English name for it) comes from my mother's.
I wish I could have a mantelpiece to ornate, but I don't, so it's in the small porch (on that cupboard I hate and will violently destroy one day) and it's great to look at these fall colors when I come back home. It's the only time of the year I can bear orange! Still, I had a hard time finding flowers to put in the bucket that didn't look too orange.
As most of the décor is edible, it tends to evolve with time... So here is what it looks like today (some pieces were eaten, some were bought at the local market!)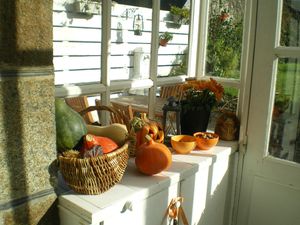 Do you notice how sunny today is? We are so lucky to have such a nice fall.
I've been very busy lately that's why nothing happened much on the blog... But I might get an extra vacation if the gas shortage still goes on here... At one point I just won't be able to go to work anymore!