13 juin 2010
7
13
/

06
/

juin
/

2010
21:04
Hi!
One of the blogs I often read (Our Suburban Cottage, in the links) organized a "How I Met My House Party" last month. Unfortunately, it was too early for me yet to talk about the house. But I thought it was such a good idea that I'm going to write the article anyway.
So as often in modern days, I met my house on the Internet. I was very specific about visiting only stone-built cottage... and then I saw a picture of this little fisherman's cottage whose walls were whitewashed. Absolutely no stone visible and yet somehow, it beckoned to me. I phoned and asked where it was: the cottage was in the first town I had had in mind to settle in and then I had given up because it was too expensive for me!
The next day, I visited the house: it was Easter Monday, but the owners were kind enough to let me come. First surprise, I actually knew the owner as we are in the same ballet class. It was just sheer luck as I'd been in the area for only a few months and knew nearly nobody apart from work colleagues. The house appeared to be some kind of Noah's Arch with cats, dogs, rabbits, fish and hens! I know it could have seem dirty, but to me it gave a feeling of happiness and kindness. So, obviously, it's a long way to my dream cottage garden, but one thing convinced me it was possible: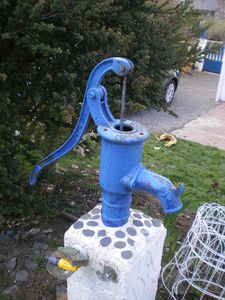 "Little House In The Prairie", anyone?
Visiting the inside proved to be much the same: a long way from my dream cottage but as it is an old house I'll just have to give it back his soul... Right now, it looks like a mix of Provençal style, Moroccan style and lots of "Sponge Bob" paintings on the walls. So how do I know it's the one? Some kind of gut feeling I guess!
Little White House xxx
PS: By the way, the well pump doesn't work anymore... but it will again one day.