1 novembre 2010
1
01
/

11
/

novembre
/

2010
14:51
I wanted to transform the upstairs toilets during my Hallowe'en break, but instead I got 3 wonderful friends and a baby at home. It was really great, especially the fact that the baby discovered the sea (and chocolate!) while here!!!
On the plus side, I get more time to think about what I want to do upstairs... Oh, and also, they gave me really cute heartshaped dishes. It was blind luck apparently, as none of them knew I had moved to a "heart phase". (I tend to love things shaped as a heart nowadays).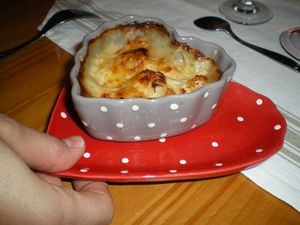 Here they are, filled with a seafood pie. But, since then, I also baked a great meringue triffle in them. Everything tastes better when heartshaped!!!
So the only new project so far is to get rid of the rope that was in the staircase.
Before: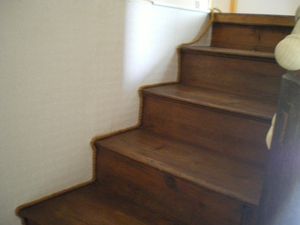 After: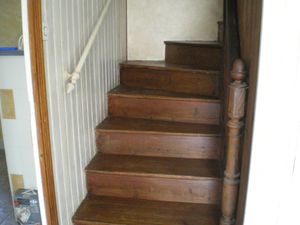 I know, it looks like it took five seconds! Atually it took for ever since a) the rope had about four nails a stair; b) the rope was so dusty, the dust was like glued to the wood underneath and I had to wash it with a toothbrush so I could get to the corners!
Also when my friend's baby was there, I finally understood why the bottom stairs look so much more older than the upstairs ones!!! Generations of babies trying to go up and stopping at the third stair!!!
Later, I would like to repaint the staircase for right now there are three different walls!!! Again harmony is nowhere in the house!!!
Yesterday, I was surprised to see kids come "treat or tricking" the house: I quickly put my witch dress and hat on and it was a lot of fun to wait for them and see their face when they discovered my lighted Jack O'Lantern and black dress!