12 septembre 2010
7
12
/

09
/

septembre
/

2010
16:29
Sorry for all English-only speaking folks, but this post was a request from French-speaking friends. Anyway no one who speaks English actually needs this recipe!
A la demande quasi-générale (j'exagère comme toujours), voici la recette du cheesecake. Un aperçu pour vous faire envie: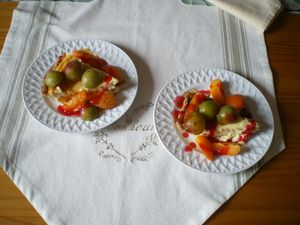 Tout d'abord, il vous faire une croûte: au choix biscuits écrasés et mélangés avec du beurre fondu (environ 200g de biscuits et 90g de beurre font l'affaire), ou une pâte brisée maison ou achetée toute faite (on en trouve même des bio maintenant). Si vous choisissez l'option pâte brisée maison ou commerce, il faut la faire précuire 10 minutes dans un four à 200°C.
La garniture maintenant:
750g de fromage blanc
1 tasse de sucre (250 mL)
1/4 de tasse de farine
un peu de zeste d'orange et de citron râpé
4 oeufs
150 mL de crème (environ, moi, c'est toujours à la louche!)
Ajoutez les ingrédients dans l'ordre dans la terrine, en battant au fouet pour que ce soit lisse. Versez dans la pâte précuite et cuire environ 1 heure à 180°C.
C'est simple comme bonjour. Le tout pour que ça fasse chic, c'est d'accompagner de fruits de saison et d'un petit coulis (ici un coulis de groseilles du jardin! les prunes, elles, viennent du jardin de ma Maman).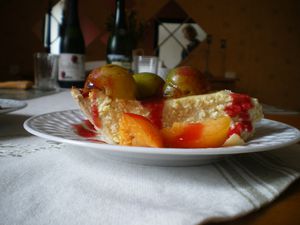 Bon appétit!
PS: The blog might be on hold for a little while as I did find a job (I'm a substitue teacher), but it's in txwo different schools (not good for me who doesn't like driving) and it's as a French teacher (and I haven't taught French for 8 years now, so it's a lot of work - it's kind of challenge, though, so of course I enjoy it). I'll be posting as soon as I feel my lessons are ready for the week coming...