28 janvier 2011
5
28
/

01
/

janvier
/

2011
20:10
Today I just wanted to thank my pupils. Today was supposed to be my last day as a substitute in one of the two schools I work in. I was surprised to see my pupils arriving in class with letters, chocolate cookies and pink roses (they had asked me a few days ago what my favourite colour was)...
Aujourd'hui était mon dernier jour avec mes élèves, que je remercie pour ces cadeaux, complètement inattendus: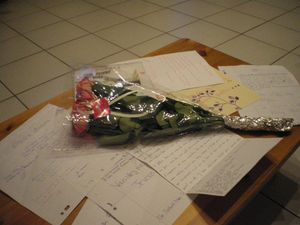 That was so cute and unexpected! It made my day, I felt like I could fly.
C'était tellement gentil que cela m'a fait pousser des ailes.
Of course, back home, Shadow smelled the roses to check if it was indeed a nice present. Oh, and sorry the cookies are not on the picture: I had to eat them at school and share, I'm sure you understand.
Bien sûr, une fois à la maison, Shadow a tenu à sentir les roses... Les gâteaux au chocolat ne sont pas sur la photo, car à ce moment-là, je les avais déjà mangés!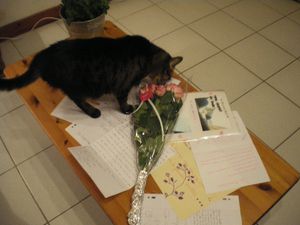 The fun part is, as I was going down the stairs, arms loaded with their presents, I met the school director who told me : "I just had a phone call from the teacher: she's not coming back on Monday, you stay there until February 25th." Do you think I can expect more roses in a few weeks???
Le plus drôle, c'est que lorsque je suis arivée en salle des professeurs les bras chargés de cadeaux, le principal m'a annoncé que le remplacement était prolongé de trois semaines!