26 août 2010
4
26
/

08
/

août
/

2010
21:45
So I tried to knock on heaven's door, but I actually walked in a Little Shop of Horrors.
First, one of my favorite item: the kitchen's walls!!!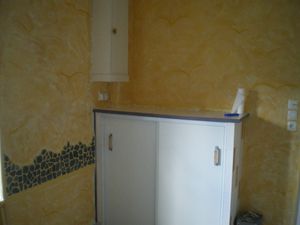 It doesn't really show on the picture, it's not smooth at all. I guess it was made with the kind of spatula you use to put glue on tiles! And the real treat are the orange seagulls painted on it!!! I'm a long way from my ideal cottage kitchen!
Second best is the floor in the main bedroom.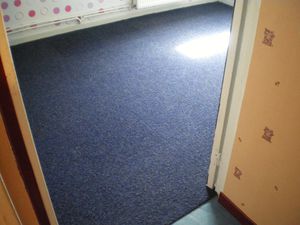 It's a navy blue carpet. You think it can't get worse. See what's under the carpet. The previous owner had told me it was hardwood floor... Well surprise!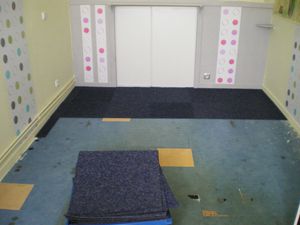 It's a very dirty and very 1950's linoleum...

Speaking of the main bedroom. Can you believe there is a wonderful painting on the wall next to where I'm suppose to sleep???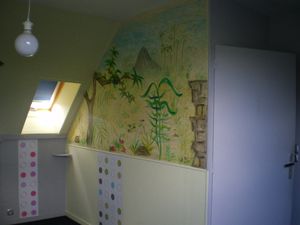 I'm pretty sure you can only have nightmares when this is the last thing you see before closing your eyes!
Then, in case you hadn't notice the house is very colorful... There's even an "Arlequin" floor in the corridor: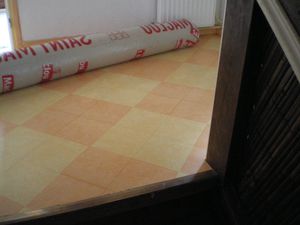 And I saved the best for the end!!! The dining-room door. Doesn't it make you scream?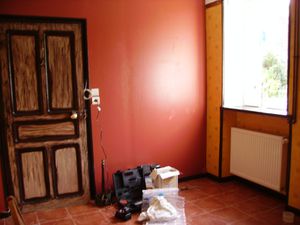 This was just to make your mouth water... There are lots more!!!
Now, you are thinking I was crazy to choose the house. Don't deny it. I can hear you from here.
So just wait for the next article, you'll be surprised!!!