6 avril 2011
3
06
/

04
/

avril
/

2011
18:03
Dear readers,
Chers lecteurs,
During the past few months, transformations in the Little White House might have seem to have gone very slowly.
Ces derniers mois, les transformations de la petite maison ont été plus que ralenties par l'hiver.
But sometimes you get unexpected help.
Mais parfois, on reçoit un coup de main inespéré, mais ô combien apprécié.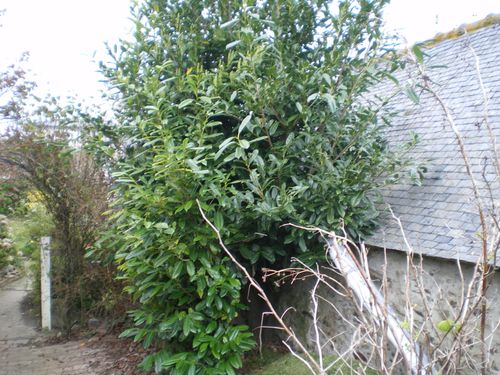 A few weeks ago, my neighbour asked me why I hadn't get rid of a tree which was bringing much shadow in his garden and he knew I didn't want to keep. I told him getting rid of all the remains of the henhouse had been already very expensive...
Il y a quelques temps, mon voisin m'a demandé pourquoi je ne m'étais pas encore débarrassé de ce laurier palme qui assombrissait son jardin, poussait le toit de son abri et dont il savait que je ne voulais plus...
The next Saturday, the gate bell rang. And here he was with his father-in-law and their chainsaw!
Le samedi suivant, il a débarqué avec son beau-père et sa tronçonneuse!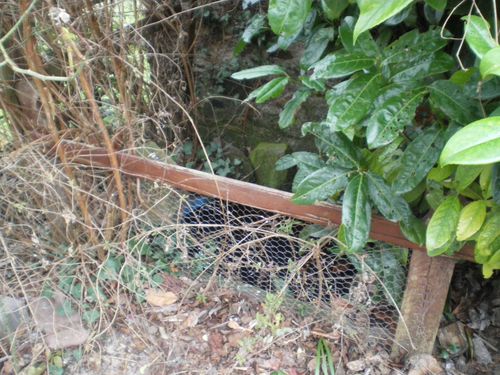 Behind that tree, that was actually pushing the roof of my neighbours' garden shed, was a nasty fish pond where I wonder how the previous owner manage to keep their fish alive since there was no oxygen system of any kind.
Derrière cet arbre, il y avait un bassin à poissons dans lequel il est miraculeux que des poissons aient survécu car il n'y avait aucun système d'oygénation de l'eau.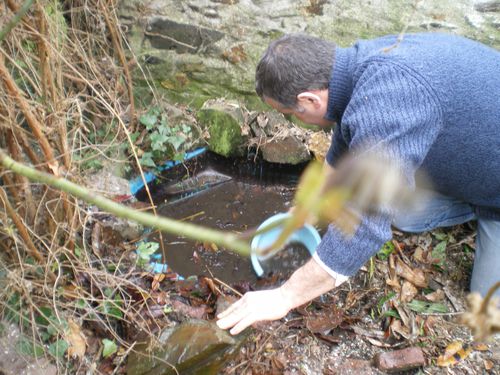 After the tree was cut, the neighbour offered to say goodbye to the pond: I did a happy dance, so he understood a) that I was crazy - b) that I thought it was the best idea of the day!
Le voisin m'a proposé de la vider.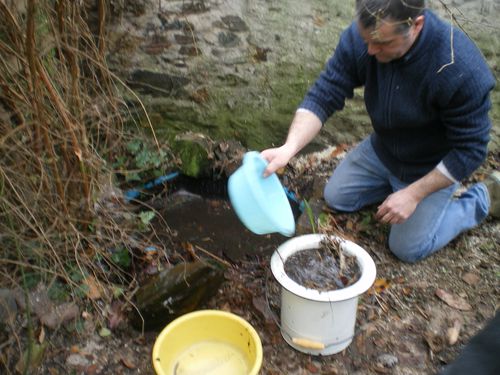 Believe me you're lucky pictures don't include the smell.
C'est une bonne chose pour vous que les photos ne capturent pas les odeurs!!!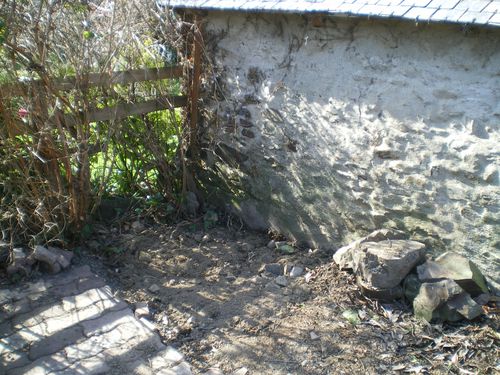 Now, my part of the work. I'm filling the hole in order to be able to put my future compost bin there. It might not look like it, but believe me it's taking for ever to fill and it's a pretty tiring job: the picture above is where I am today, almost done!

Maintenant, il me faut remplir le trou laissé par le bassin. C'est un peu du travail de forçat, charrier des caillous et de la terre tous les weekends. La photo ci-dessus vous montre où j'en suis ce jour.
News of the actual compost bin will be posted when I found it. Because of course, I don't want a plastic one! Too ugly for my garden!
Ce sera mon futur carré à compost, dont vous aurez des nouvelles dès que je l'aurai trouvé, car bien sûr, je n'en veux pas un en plastique, ce serait trop simple!
Magali, from the Little White House xxx