27 août 2010
5
27
/

08
/

août
/

2010
17:10
Do you consider the house ugly because you read my last post? Actually, the house has "potential". It's my favorite word to describe a house I visit: it either as "potential" or it's hopeless. So here are my own seven wonders.
1) Stone walls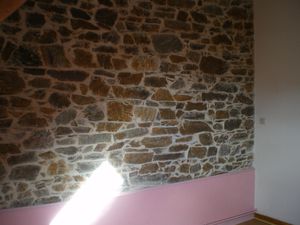 The house is made of stones. None are showing right now except in the guest bedroom (aka the East room).
2) Beams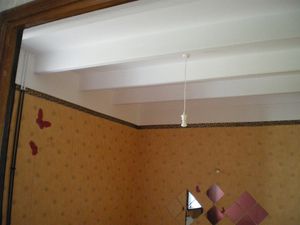 You can see the ceiling beams in the dining-room and in the kitchen. They are concealed in the living-room, but I intend to have them restaured one day...
3) Beams again!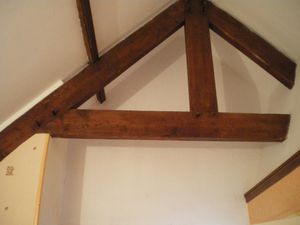 I just love those beams upstairs! Here are the ones in the corridor. There are the same in the guest room and also some in the main bedroom, but those last ones are concealed under an awful fake ceiling... What were they thinking????
4) The stairs.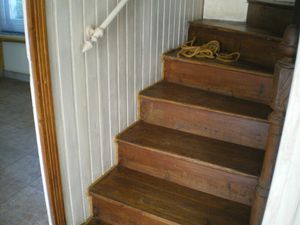 They are the original stairs of the house. They need a little work but I love them as they are!
5) The well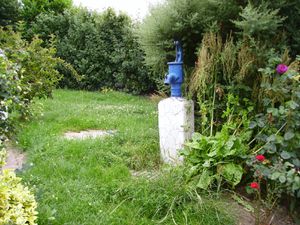 I know it's cheating because I already posted a picture of it. But, it's definitely one of the wonders! It's still out of work, though. Given that when I arrived I didn't have the telephone and that I still don't have TV in the house (I have the set, but nothing on it!!), the well didn't seem a priority!
6) The view at the back of the garden.
The houses of this block are the last before the fields, for now at least... Which is just great! You can wander in your pajamas and nobody can tell!
7) Just because.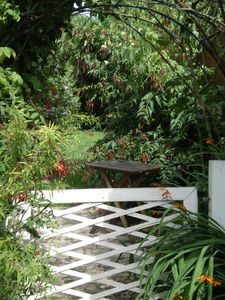 The cottage vibe is here. It just needs to be uncovered...
*** To be continued ***