23 septembre 2012
7
23
/

09
/

septembre
/

2012
20:36
Dear readers,
Chers lecteurs,
I'm pretty sure you're familiar with the "new to me, but actually quite old" pieces we all bring back home...
And you must also know that feeling that sometimes the piece chooses you rather than you choose it.
This is exactly what's been happening lately at the Little White House.
So what do you think I'm going to share with you today?
My "new" cheval mirror? My new Saint-Hubert buffet? My new guéridon (there's a word in English for it?)? My "new" mantel?
Sorry, I was kind of showing off... But, yes, a lot has been happening at the LWH lately...
So that new "piece", here it is: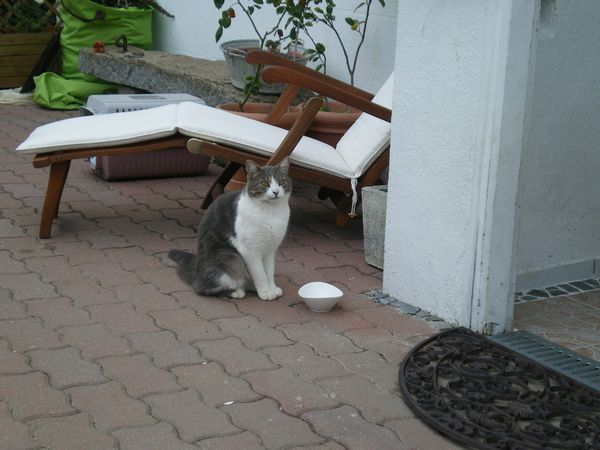 No, not the chair, the cat!!!
I'm sorry about the mess on the patio... This picture was not taken for blog purpose at first!
He's something new to me, but he's also something old... Right now we're guessing somewhere between 8 and 11 years old... He's also something borrowed, as he's not my cat... I found his owners... I called them. But they told me that given that the cat keeps coming to my house (he's been "appearing" for two years now), they didn't know what to do...
Let me tell you I was a bit surprised when they said so on the phone... I wasn't expecting that at all...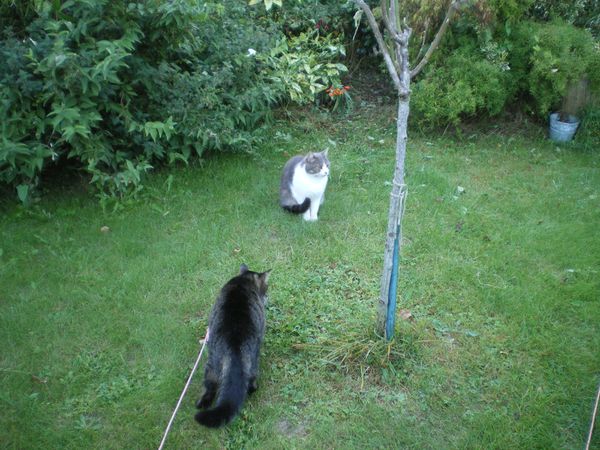 Shadow, my very own cat, wasn't expecting that either... We're trying to adjust... Which basically means that when the cats are together I have to keep an eye on them: Shadow likes to fight!!!
Many people told me it was impossible for two cats that old to get used to each other... But I have faith in time and love, also I'm very patient, which helps a lot!
There's something missing according to tradition... Something blue... So I thought I could show you the pedestal plate I found this morning at an "attic-sale":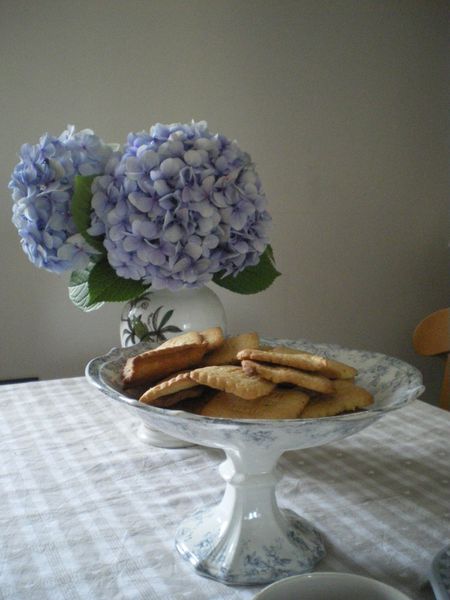 Sorry, this not a staged picture at all: the light is crappy as we had the first "autumn-y" weekend of the year... I was just having tea with a friend and thought of taking a picture for my mom to show her my first homemade petits beurres, made with a mold she gave me.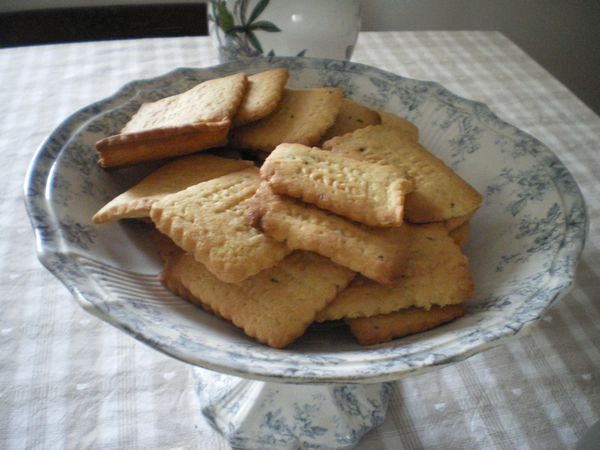 Well, help yourself, since you're here!
Magali, from a very busy Little White House xxx