23 novembre 2010
2
23
/

11
/

novembre
/

2010
20:49
I've been so very busy for the last two weeks that I had no time for new posts... and also I had nothing new to show. I was so very disappointed not to be able to be part of all those wonderful blogparties that I love (but I did read everybody's posts eventhough I didn't participate!).
I don't know how to organise a party yet, but when I do I want to create a "real life"/"not picture perfect" party. I mean, how often do our houses really look the way they do on pictures posted on decorating blogs??? Mine never does...
For example, a window sill should be neat and pretty with flowers in a vase, something like a collection of objects you love... That's in my dream cottage. In real life, my window sill looked like this last week: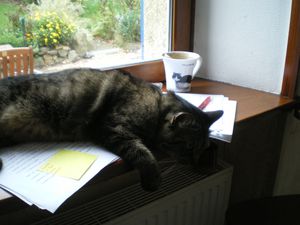 This was the only way I found to mark/grade papers while still enjoying the rainy garden... I was so late for handing back those papers, I couldn't delay anymore and it kept me working all weekend. As usual, I got some feline help. I was wondering if Shadow was trying to look as cute as the cat on the mug?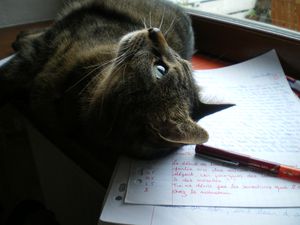 I only stopped working this weekend for a short moment : I went to nearby town to buy something second hand... I'm thrilled about it, but I don't have a picture yet... So stay tunned... To be continued!