23 janvier 2012
1
23
/

01
/

janvier
/

2012
20:48
Dear readers, wanderers and all,
I've been away for a while, so I'm not sure I really know where to begin...
Maybe I should explain why I was away. Because the Little White House has eaten more budget than planned last summer, I have agreed to work some extra hours as soon as one of the schools I'm working in asked me to... It keeps me really busy.
And when I say busy, I mean "up until midnight" busy. What I've been asked to teach is "Latin language and culture", something I did study... But ten years ago, so my memories are a bit fuzzy. I love a challenge, though. I love the feeling that washes through me when I'm learning.
And yes, French school is not afraid of contradictions: "You can speak English? Why don't you teach Latin?"!!!
I try to be a good girl and study every evening, but clearly if Ian Somerhalder spoke Latin, I'd be fluent in a week!
2012 a apparemment plein de projets pour moi... Mais les projets ne se concrétisent que si on leur donne un petit coup de pouce... Du coup, je travaille beaucoup et je blogue moins... Je dors peu aussi car devoir prendre des décisions va souvent de pair avec quelques insomnies!
2012 might have something else in store for me as far as work is concerned and that also keeps me up at night, balancing all my options deciding on something different every night... Aaaaargh! I would tell you more, but I'm very superstitious, so you'll have to wait... I have wonderful people around me, family, friends and colleagues, who try to help me get to the right decision without putting any pressure on me... And I feel really blessed for that.
Je profite de ce petit article pour remercier les gens formidables, parents, amis et collègues, qui m'entourent et me conseillent pour m'aider à prendre les bonnes décisions, sans pour autant jamais me "mettre la pression". Je me sens vraiment épaulée.
The blog is still on my mind: I have about a post a day written in my head... But I don't have time to type it. If only I could type while driving!
The house is still evolving and I'm very aware of the fact I'm late to show you tons of things... But I'm also late on so many projects... Seriously there's a poor mirror that's been waiting for month to be repainted!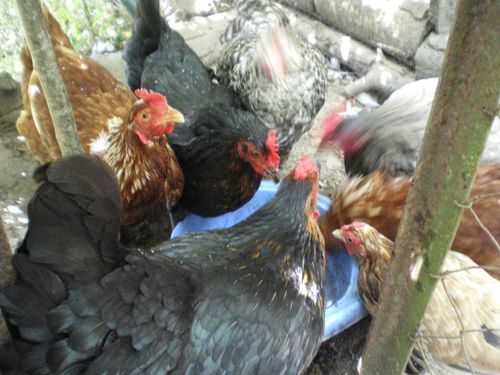 So I thought I would begin to show you some of the transformations you've missed... The side garden! The first picture is 18 months old. The place used to be a very old and very shabby (not chic, though) henhouse.
The henhouse was removed...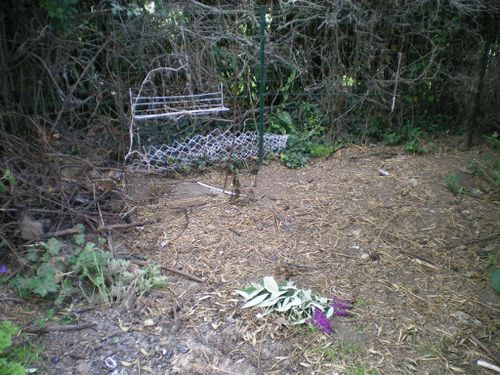 And I was left with an ugly job. That part of the garden had been used as a dumping ground years ago , the way it was often done in the counrtyside. So every weekend, I would take a big plastic bag and fil it with various stuff from old paintbrushes to empty beer bottles...
Alors, juste pour vous prouver que je n'ai pas été inactive à la Petite Maison, voilà un résumé en images de l'évolution du fond du deuxième jardin au cours des 18 derniers mois!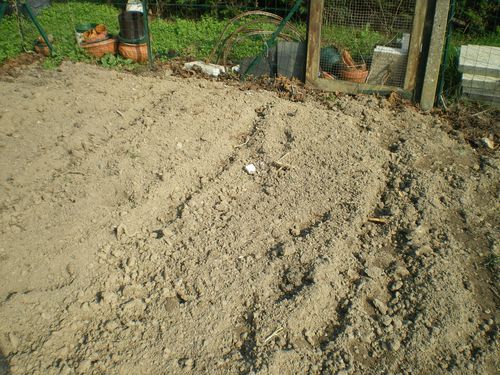 There, after a few full plastic bags, it was already looking better...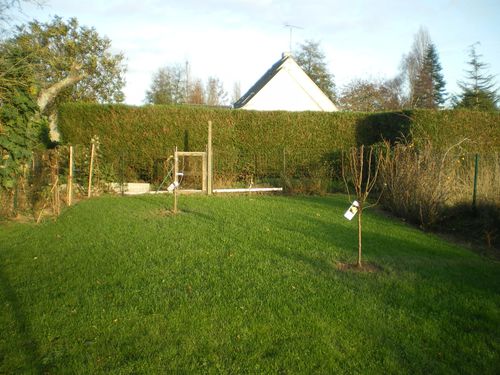 Same part of the garden: a gardener helped me to level the ground and he aslo dug for me the holes for the pear tree and the apple tree.
I had thought it would be fun to choose the trees by myself... Stupid little blond amateur-gardener!!! It sure was fun until I tried to stuff the two trees in my European sized car! To be true there was a moment when I thought I would let one of the them on the parking lot!!! But after lots of swearing (I amazed myself at how many words I know) and some bleeding (my hand, none of the tree was harmed in the process).
I just love going to that part of the garden now!I proudly call it my "orchard".
Clearly I'm not done with the garden, but this was a very big step completed in 2011.
Magali, from the Little White House xxx
(For some reason my usual signature won't work tonight... and I still have homework, so I give up!)