19 août 2011
5
19
/

08
/

août
/

2011
20:53
Dear readers,
Chers lecteurs,
I'm back at the Little White House though the renovation is far from complete. I promise picture in the near future. I know I already wrote that once... It's just very difficult to post pictures of my house in its current state.
Je suis de retour à la maison. Je vous promets des photos de l'avancement des travaux... Mais c'est un peu difficile de publier des images de ma maison dans son état actuel.
Basicaly I'm camping in my own house and eating dust for breakfast, lunch and dinner!
Grosso modo, je campe dans ma propre maison et je mange de la poussière du petit-déjeuner au dîner.
During the day, I need to keep myself busy. Reading is out of the question with the noise going around here... I wish I could ask the workers to stop the noise but keep working!!!
So I'm doing small projects that don't need too much concentration and that make me believe I'm also working for the house.
Du coup, je me lance dans des petits projets qui ne demande pas trop de concentration (quand inventera-t-on les travaux qui ne font pas de bruit?) et qui me donnent l'impression de travailler pour ma maison.
I bought a clock a while ago in an attic sale, just because it was wood and cheap and I loved the diamond-shaped frame.
J'avais trouvé une pendule en bois pas cher dans une brocante.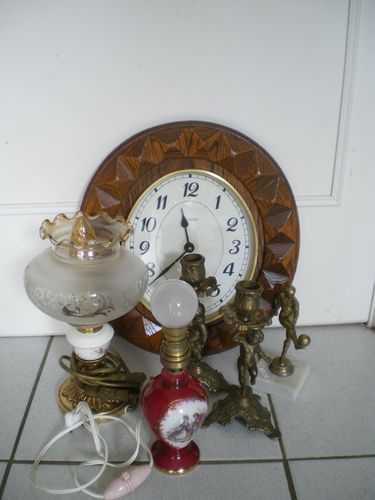 I really didn't know what to do with it.
Then I saw in a "Maisons du Monde" store a cute cream coloured clock that was too expensive for me and inspiration struck. Ouch!
Puis, j'ai vu une horloge adorable en bois couleur crème dans une boutique Maisons du monde et l'idée a germé!
So, before: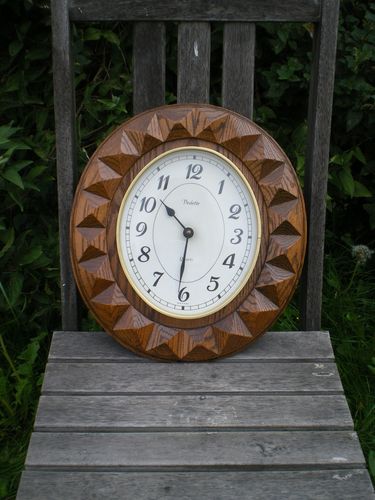 And after: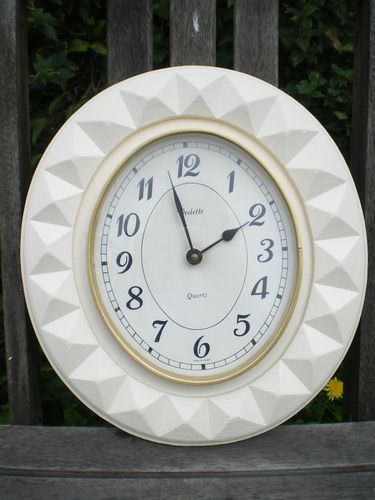 I would show you how it looks in my kitchen, if my kitchen wasn't the awful mess it is right now. I managed to get the fridge back in it tonight, but it's in the middle of the room as nothing can touch the unfinished walls! Still, it's more convenient than to have it in the garage and having to cross the garden every time I need butter!
Vu l'état actuel de la cuisine, il peut paraître ridicule de se consacrer à une pendule... D'un autre côté, faire le ménage de la cuisine relève du mythe de Sisyphe, alors...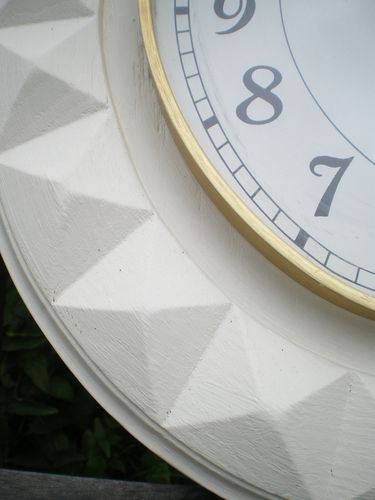 Magali, from the Little White House