26 novembre 2010
5
26
/

11
/

novembre
/

2010
21:33
You might not know the French website "Le Bon Coin": I guess it's like the "Craig's list" I read a lot about on your wonderful decorating blogs. Meaning, it's a wonderful way to spend your time on a rainy day and it's also very time consuming because I'm always afraid to miss something great... which does happen. Everyday, I check the site for old stuff, especialy teapots, watering cans, chandeliers and so on...
Si vous êtes un tant soit peu intéressé par les vieux trucs, vous connaissez forcément "Le Bon Coin" auquel je "convertis" peu à peu tous mes collègues... C'est toute une institution, avec ses propres règles d'orthographe (quel fou rire sur l'annonce du panier en nozier!!! - véridique! - ), ses photos parfois floues et ses prix parfois délirants (dans le bon et le mauvais sens!). Tous les jours, j'ai toute une liste d'objets que je recherche (des théières bien sûr, des vieux arrosoirs et tout ce qui est anglais).
Last weekend I found this old scale in a nearby town.
Voici ma dernière trouvaille: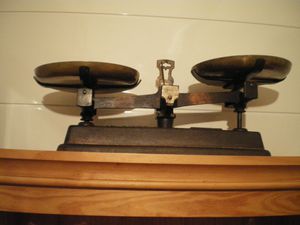 I must say the couple I bought it from had a wonderful house: I would have been glad to bring more of their stuff home!
J'ai choisi de la laisser telle quelle: je l'ai dépoussiérée, mais je ne veux pas la rajeunir, j'ai juste gratté un peu un trop plein de rouille qui empêchait de voir une inscription...
I'm slowly beginning to buy things that will go with the future kitchen, though they look majorly weird right now in the modern kitchen the house has!
Me voilà commençant à accumuler des objets qui trouveront leur place dans la future cuisine, mais qui sont complètement déconnectés de l'ambiance actuelle de la pièce!
Actually, it's not for that big scale I drove all the way to that town, it was for a small and cheaper item... But so very rare around here!
It's an old English milk bottle, dated from 1884: the first item of my collection (can you say collection when you only have one?)...
En fait, ce n'est pas la balance qui m'avait fait prendre ma voiture, même si c'était une heureuse surprise; c'était cette ancienne bouteille de lait anglaise, dans laquelle après l'avoir détartrée, j'ai mis les dernières roses du jardin, en piteux état malheureusement car elles ont pris la première neige sur le bout des pétales!
I tried to save the last roses from the garden in the milk bottle, but the frost got them first and they don't look so good....
Have a nice weekend - first weekend of Advent - Happy decorating time!