3 décembre 2010
5
03
/

12
/

décembre
/

2010
17:03
Again, to listen while reading...
A écouter en lisant...
It's been snowing a lot lately, which is very, very, very rare around here as we're supposed to be protected by the ocean, which keeps the temperatures high in winter. The garden was eerie and I thought I should share with you some pictures... Nothing home made, everything nature made!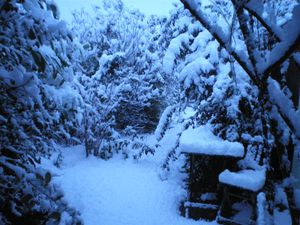 Il a beaucoup neigé et le jardin a pris des allures de haute montagne. En voici les preuves. Pour une fois, rien n'est fait maison, tout est oeuvre de la nature.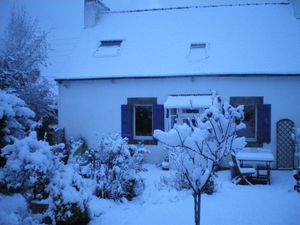 You might have noticed from other posts that I'm an awful photographer, not even average. But I tried not to use the flash to capture the weird light we had at the end of the afternoon. It's almost blue and looks a lot like the color on Christmas cards, I think (the Christmas cards I should/ought to begin writing soon!)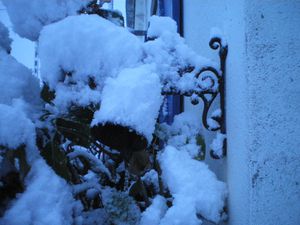 Je suis une piètre photographe, vous avez dû vous en rendre compte dans d'autres articles, mais j'ai essayé de prendre les photos sans flash pour capturer la lumière surréelle qu'il y avait en cette fin d'après-midi. Cela m'a fait pensé à ce bleu pâle des scènes enneigées de cartes de voeux.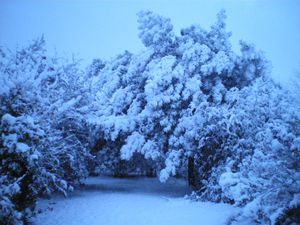 I almost can't believe this is my garden!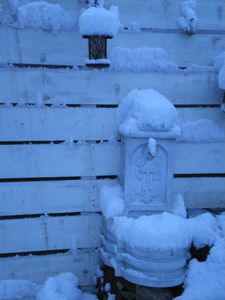 Le "restaurant de la plume" (ouvert depuis que le thermomètre a atteint 0°C) a failli s'écrouler sous le poids de la neige... J'ai dû le déneiger le lendemain matin car les oiseaux piaillaient autour mais ne pouvaient pas attrapper les graines. Cela n'a pas désempli de la journée!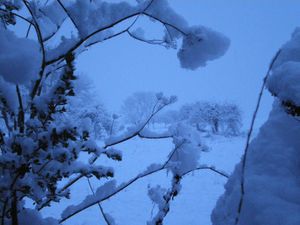 If you find the poetry of blue light really boring, you can have fun watching Shadow discovering how cold the snow is (especially for his back paws for some reason).
Si la poésie de la lumière bleue vous laisse totalement indifférent, vous pouvez vous moquer allègrement des premiers pas de Shadow dans la neige, qu'il trouve particulièrement froide, mais il a une technique bien à lui pour se réchauffer les pattes.