14 février 2012
2
14
/

02
/

février
/

2012
12:34
Dear readers,
Here, in the peninsular part of France where the Little White House is, we're on Winter break. So what do you think I'm doing? Painting? Reorganising the office area? Changing my windows? Doing the laundry? Wrong! Wrong! Wrong! I'm fighting a nasty angina. The temperature makes me dizzy and oh, so weak I can barely type...
I wish having a fever was as sexy as when it's only metaphorical...
Et voilà, les vacances sont arrivées, je devais en profiter pour commencer à "dérosir" la chambre d'amis, trouver un super menuisier pour changer mes fenêtres, repasser la tonne de lessive qui attend sagement sur le lit de la dite chambre d'amis, trouver une solution pour le coin bureau... En fait, je suis mise KO par une angine... Je suis toute faiblarde et je souhaiterais qu'avoir de la fièvre soit aussi sexy que dans la célèbre chanson de Peggy Lee, mais là je ressemble plus à une poupée de chiffon en jogging affalée sur le canapé.
Speaking of fever, do you believe an ad for tiles can be hot? Well, look what I found when researching stone tiles...
Justement, en parlant d'attitude sexy, vous auriez pensé à faire une pub pour du carrelage aussi sexy, vous?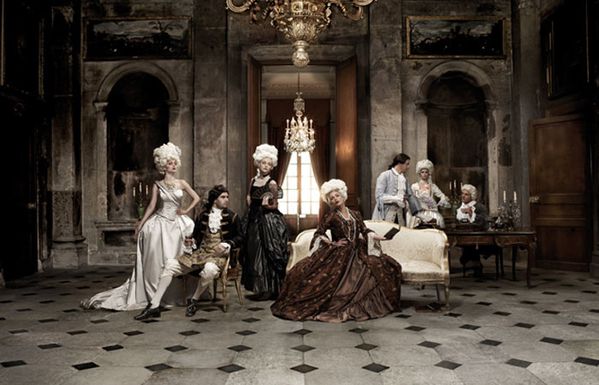 Well, ladies and gentlemen, you can keep your wig on...
Je ne sais plus ce qui m'a attirée le plus lorsque j'ai vu cette pub: les perruques ou le carrelage... (comment ça, ne me dites pas que je suis la seule à trouver les perruques sexy?)
Just imagine if the brand sold bathtubs, what the ad would look like...
Funnily enough, these was on of my floor ideas when remodelling the Little White House... More on that when I can think straight...
If you want to have a look at wonderful stone tiles, you can hop on lapidica's site... But if the tiles are all gorgeous, they didn't come up with clever ads for each pattern!
Magali, from the Little White House xxx