13 septembre 2011
2
13
/

09
/

septembre
/

2011
22:14
Dear readers,
Chers lecteurs,
Thanks to all of you for visiting the Little White House lately... And thanks to all of you who tried to understand French enough to leave messages that were so nice to read.
I think I owe you a mini living-room reveal. Please keep in mind that it is by no mean finished... The living-room is just a work in progress... The sofa for example was supposed to be changed this summer but wasn't for budget reasons... I just bought a new slipcover for it... It's the sofa I had in my first student-studio in Paris, years ago. And no, I'm not telling you how many years!
Je crois qu'après les transformations de cet été un petit avant/après s'impose... Gardez cependant à l'esprit que rien n'est achevé... C'est juste un peu avancé.
So, let's rewind a little.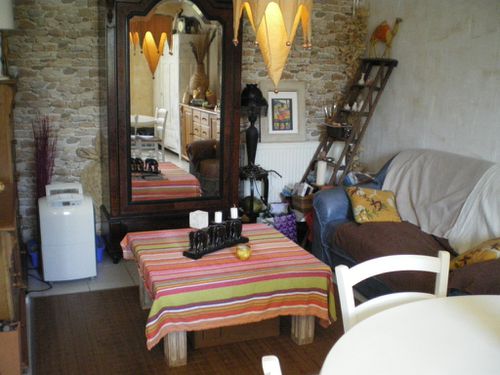 Here's the living-room the first day I visited the house...
Voici le salon le jour où j'ai visité la maison pour la première fois...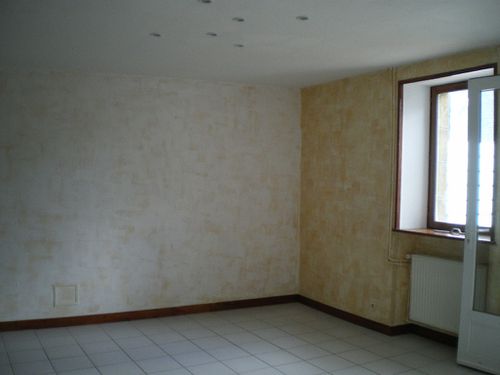 And the day I got the keys.
Et le jour où j'ai eu les clefs.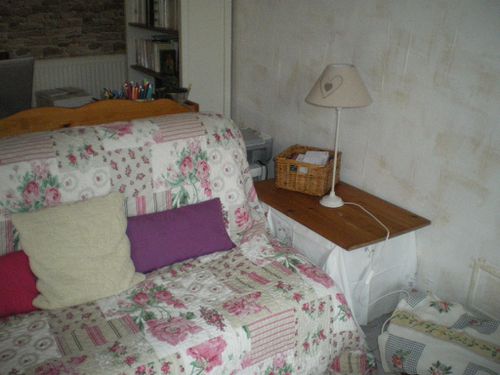 I managed to fit my home office at the back of the room and a cozy enough living-room at the front for one year. Sorry the picture really doesn't show the space but at the time I didn't think it was important to take a picture of the room as it was. This picture was taken to show my mom what a clever end table I had done with a cardboard box wrapped in fabric and an old board!!!
Then, I clear everything...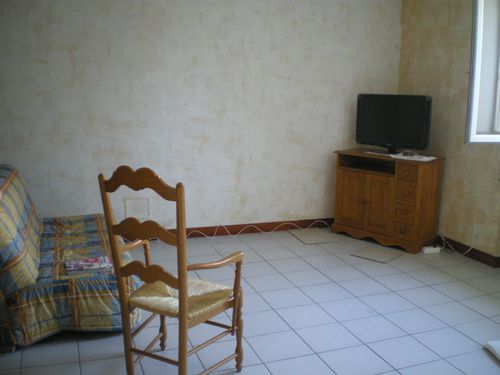 The living-room the day before the remodelling began.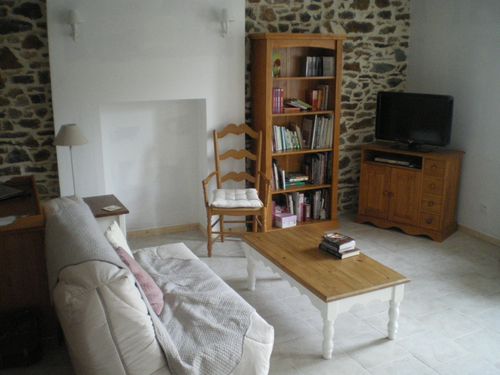 The living-room as it looks like today... A work in progress...
Et voici le salon tel qu'il est aujourd'hui... En cours d'aménagement...
With its beamed ceiling...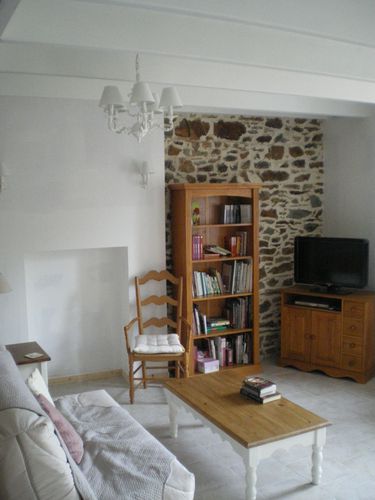 On the list for the future days/months/years/decades/.../ goes on and on and...
- finding a nice carpet,
- having a stove,
- creating a mantel,
- finding a kind of bookcase for the TV (a TVcase, then?) so the TV is somewhat hidden... but still watchable!
- finding a lower bookcase so I can still store books, but the stonewall is more visible...
- finally having enough money to buy the desired sofa... with arms please so reading could be comfortable...
- finding a nice end table or chest...
- finding THE right paint colour for the walls and the fireplace.
Magali, from the Little White House
Even if it's by no mean a "big" reveal where everything is finished, I feel like partying!