28 juin 2011
2
28
/

06
/

juin
/

2011
21:03
Dear readers,
Chers lecteurs,
I'm so very late for Sarah's party. It's a pity since I loved the idea of a "kitchen favourites" party and I took pictures as soon as she suggested it.
But then, well, life happened...
For the third summer in a row, I'm putting my whole house in boxes in order to be ready for the first phase of the remodeling that begins next week... My whole body aches from going up the stairs with all my stuff... Why do I own more books than the National Library? Sorry I can't be witty, can't probably write any good English, or even French, because I'm so tired...
Pour la troisième année consécutive, je mets ma maison en cartons, cette fois pour préparer les travaux de l'été.
My kitchen is an awful mess. Not "awfuler" than the rest of the house, just the average awful.
Here it is the day I "met" it.
Ma cuisine est une catastrophe. Voilà à quoi elle ressemblait quand je l'ai visitée.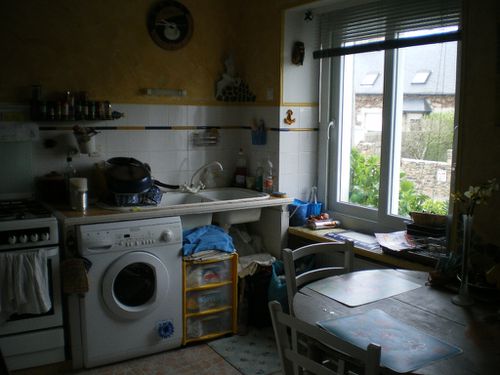 Somehow, call me crazy, I could see potential in this room! But to allow this room to reveal its potential, I need time and money...
Moi, j'y voyais du potentiel...
So rather than being completely depressed by this room for a few years, I decided to add small beauty spots in my kitchen.
Plutôt que de déprimer, j'ai essayé d'arranger les choses par petites touches en attendant...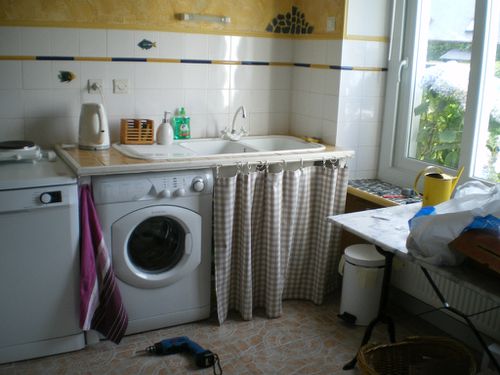 First, I put a little curtain under the sink... It doesn't hide the stains in the sink, but it's a little better, isn't it?
You can see I took that picture right after moving in as the table is still a mess... and the fish are still on the backsplash (they aren't anymore!)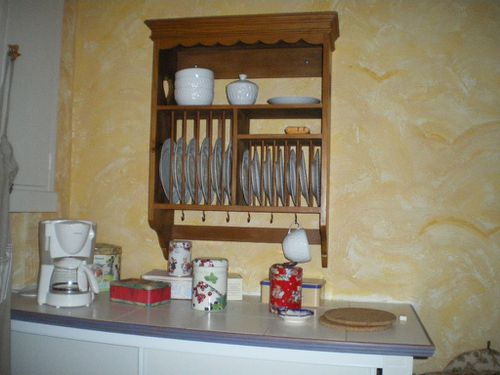 My favourite open shelf, bought in an "attic-sale", to show off my white china... And yes, I shamelessly put ot on the awful built-in buffet the previous owners made.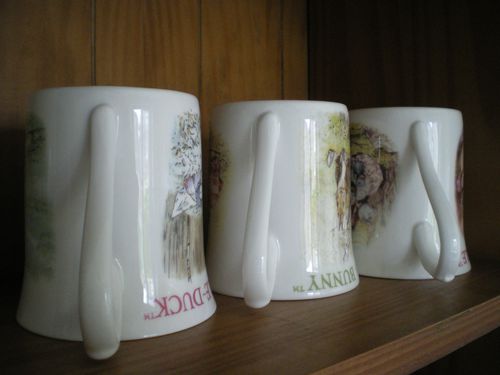 Some of the many mugs I brought back from England... They just look so out of place in the weird yellow and orange kitchen!
Mes mugs ramenés au fur et à mesure de mes voyages en Angleterre. Ils ont juste l'air un peu perdu au milieu de la déco actuelle.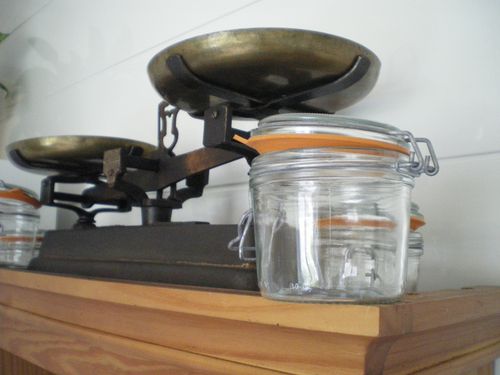 Little beauties I bought second hand.
Des petits trésors trouvés dans des brocantes.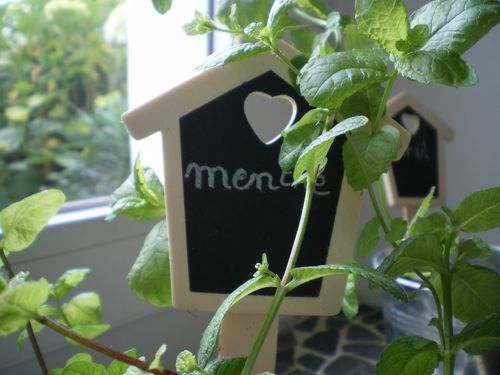 Mint, ready for the evening herbal tea.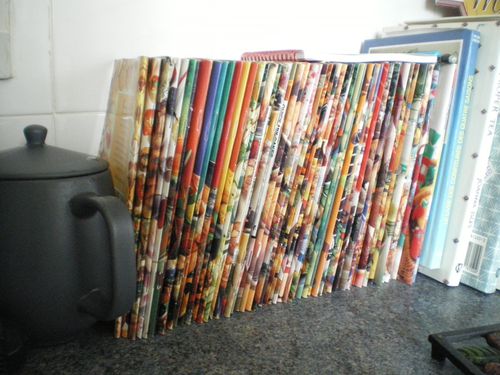 Some of my cooking books...
Ma "petite" collection de livres de cuisine.
So this how I tried to have a not-too-bad kitchen for a year. And I was really happy with it, all year long, because it would have been useless to complain about it all the time!
I will have to create other beauty spots for next year, as the remodel that's going to take place next week is only phase one... Meaning, still no proper kitchen!
Magali, from the Little White House
Sharing at....