31 janvier 2011
1
31
/

01
/

janvier
/

2011
21:49
To get you in the mood...

I know! How did we go from Garbage and The Birthday Massacre to a nursery rhyme? Open-mindedness???
Comment est-on passé de Garbage à cette chanson enfantine? Et bien, j'ai des goûts très éclectiques, dirons-nous!
I had dreamed of an Emma Bridgewater teapot... I found it second-hand on the Internet, but wasn't fast enough to email the seller... Rotten luck (a phrase I learned with Harry Potter!) - But Sarah has that gorgeous teapot, see by yourself here.
Pour tous ceux qui savaient que j'avais des vues sur une théière Emma Bridgewater qui m'est bêtement passée sous le nez car j'ai trop attendu avant de contacter le vendeur... Sarah, du superbe blog Modern Country Style, la possède: vous pouvez voir ce qui m'est passé sous le nez en cliquant ici.
So, as I couldn't let that stop my collection... here's my new purchase for my teapot collection. I found it second-hand on the Internet.
Donc, voici ma nouvelle trouvaille (je n'allais pas me laisser abattre tout de même) sur Le Bon Coin, une petite théière Arthur Wood.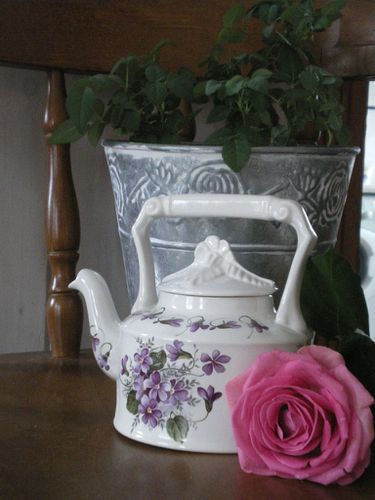 I'm completely in love with it!
Now who wants to see the making-of the picture?
Making-of de la photo: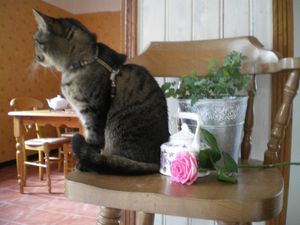 Me: "Shadow, go away? Go hunt some birds, a mouse... anything!" (voice going painfully up)
Moi: "Shadow, tu veux pas aller ailleurs? Chasser des oiseaux, des souris, n'importe quoi!" (voix montant dangeureusement dans les aigus.)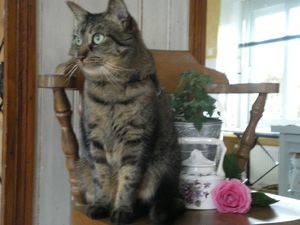 "It's such a nice chair to sit on... I really can't understand why you don't want me there, M... I'm not moving an inch..."
"On est vraiment bien ici, je ne bougerai pas pour tout l'or du monde."
So this is how I ended taking more pictures of the cat than of the teapot!!!
Et voilà comment on se retrouve avec deux fois plus de photos du chat que de la théière....
Are you jealous of what I could find on the Internet? Well, I have great news for you: a friend of mine, who just knows how to find good stuff, has opened an online shop called Le Grenier de Ninon (= Ninon's attic). What she sells is mostly French, so most of you should love it! If you're interested in something, just send her an email, in English if you want (I'll help, if there's the need - she lives only a few minutes away from the Little White House) .
Vous êtes jaloux (ses?) de mes trouvailles? Allez vite faire un tour sur Le Grenier de Ninon, une boutique en ligne dont la propriétaire a l'art de dénicher des objets charmants.
Little White House xxx