18 février 2012
6
18
/

02
/

février
/

2012
16:42
Dear readers,
Chers lecteurs,

Today, I wanted to share with a funny story... Or maybe not so funny...
Aujourd'hui, je vais vous raconter une histoire drôle, enfin, quand je dis drôle...
When I went to visit my grand mother, I had a few pictures to show her the transformations that had been going on at the Little White House. For those wondering at that point, she doesn't have the Internet.
Quand je suis allée voir ma grand-mère, j'avais préparé une petite compil' de photos des transformations de la petite maison.
Transformations in the garden, in the living-room, in the kitchen: she didn't say much while I showed her all those pictures.
Transformations du jardin, du salon, de la cuisine: elle a regardé sans trop commenter.
Then came the pictures of the loo, which I was so proud of as it was my first on-my-own job...
Puis, sont venues les photos des toilettes, petit coin dont j'étais tellement fière puisque j'avais tout fait toute seule, pour la première fois de ma vie...

Before: (Avant)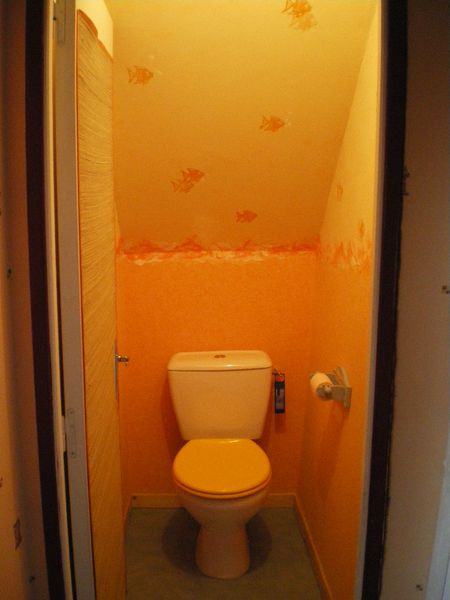 After: (sorry about the lack of light, but there's no natural light in this tiny room)
Après (la photo est pas très nette, mais avec mon petit appareil, l'absence de lumière naturelle rend les choses très difficiles..)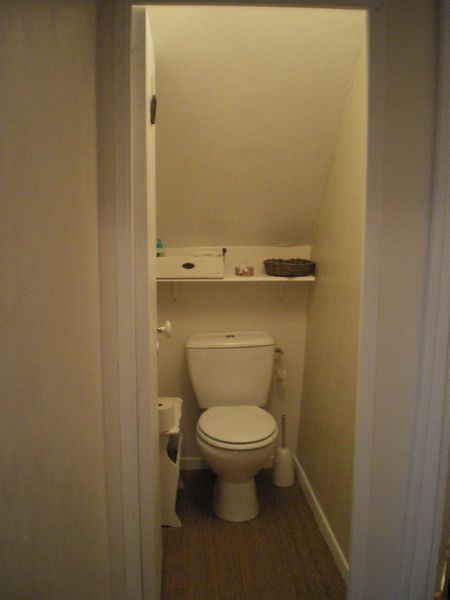 Grand-Ma: "Why did you change it? It looked better before!"
Ma grand-mère: "Bah, orange, c'était plus gai quand même!"

I tried not to look completely bummed when she turned to me... But I believe my wide-opened mouth gave me away...
J'ai essayé de cacher mon désespoir, mais je crois que le fait que ma bouche soit restée grand ouverte de longues secondes m'a probablement trahi!
So what do you think? Should I repaint all the fish and go pick up the outch-my-eye yellow seat that is still somewhere in the garage?
Alors, qu'est-ce que je fais? Je rachète un pot de peinture orange et je vais dénicher au garage l'abattant jaune?
Magali, from the Little White House xxx