3 octobre 2010
7
03
/

10
/

octobre
/

2010
13:58
Lots of people asked me how my cat was adjusting to his new life. Just fine!!! He just loves the new house, mostly because he spends most of the time in the garden, but also because there's a staircase, which is just wonderful to play his usual morning hide-and-seek.
De nombreuses personnes se sont inquiétées de mon chat: il s'adapte très bien à sa nouvelle maison. Il adore surtout le jardin dans lequel il passe le plus clair de son temps et il raffole de l'escalier qui rend les parties de cache-cache du matin follement intéressantes.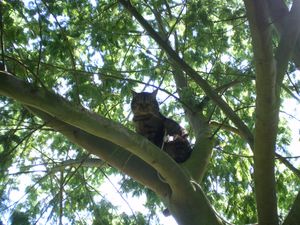 Climbing is so much fun, especially now that I don't need Mistress to get down (the getting down part was tricky at the beginning!). I took brid-watching to an other level!
Comme vous pouvez le constater, j'observe maintenant les oiseaux de très près. J'en profite car Maîtresse veut se débarasser de ce mimosa. Je ne comprends pas pourquoi...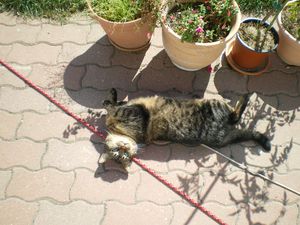 Busy sunbathing...
Trop dur, cet été!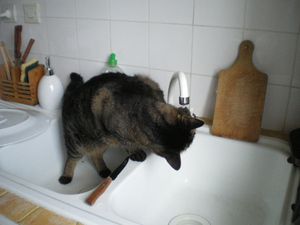 I kept my good habit: drinking tap water... directly from the tap!
Même avec un nouvel évier, je garde mes bonnes habitudes: boire de l'eau fraîche!
Even if it rains, the porch is great to keep bird-wathcing.
Et s'il pleut, je m'installe dans la véranda (je la trouve parfaite, moi!).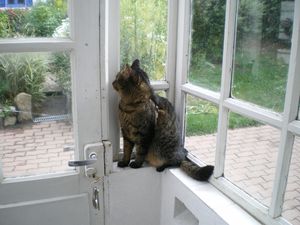 A good nap, dreaming about birds...
Enfin, toute cette activité me fatigue parfois et je retrouve mon coussin.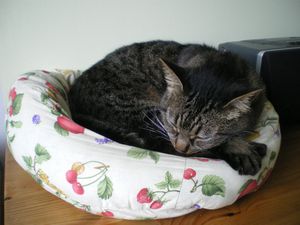 Shadow !