22 janvier 2011
6
22
/

01
/

janvier
/

2011
16:40
Stop worrying, nobody was really murdered on my cottage floor, except for a few spiders and some of my calm! It's both very exciting and very stressful to look for a new flooring. Exciting because I love fishing for ideas everywhere: the Internet and your blogs, obviously, the stores and TV (I actually watch TV only to check the floors the set designers chose!). But stressful, as I won't change the floors every summer, so the choice must be something I will still like in years.
Ne paniquez pas, personne n'a été réellement tué sur le sol de ma maison, à part quelques araignées et une partie de mon calme! C'est à la fois excitant et flippant de devoir choisir un nouveau sol. Excitant parce que j'adore partir à la pêche aux idées sur vos blogs, évidemment, dans les magasins et à la télé (je ne regarde films et séries que pour voir quel sol ont choisi les décorateurs). Mais aussi stressant parce que je ne changerai pas le sol tous les étés, alors faut pas se planter.

Here are some ideas I had at the beginning.
Plan A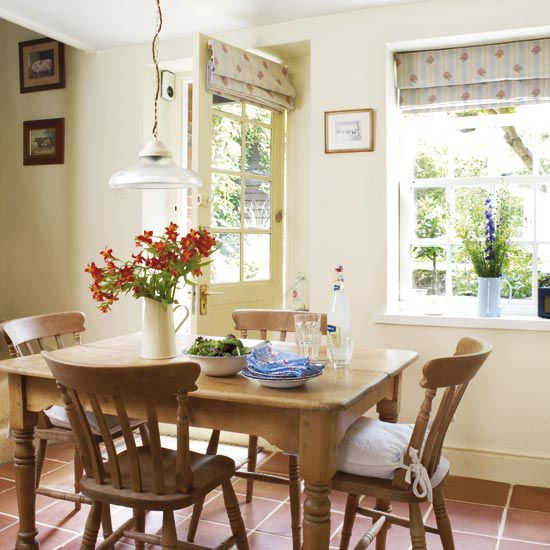 Terracotta was my first idea as most people I know (my uncle for instance) made that choice in their old houses. It exist in all kind of sizes and my preference would go for squares slightly smaller than the ones above.
La terre cuite est la première chose qui m'est venue à l'esprit car c'est ce qu'avait choisi mon oncle pour refaire sa vieille maison en Ardèche.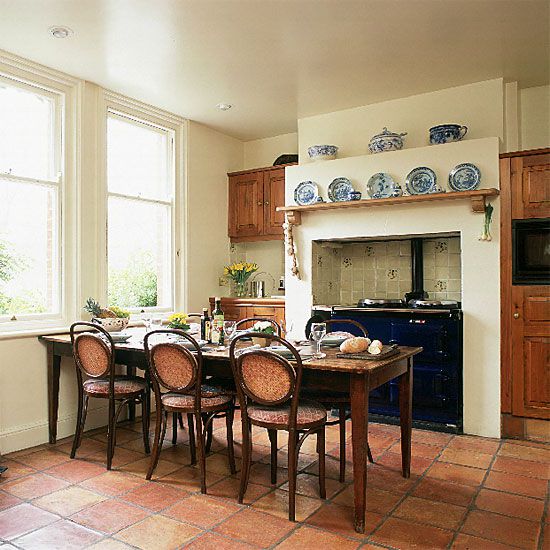 There are two problems with terracotta, according to "what-I-want-to-do-with-my-cottage": first, it gives a South-of-France look ; second, it gives a first note of color to the house that's definitely too reddish for me and won't allow me to have all the freedom I want in the room later...
Mais la terre cuite me pose deux problèmes: d'abord cela donne une tonalité trop sud de la France à mon goût, ensuite sa teinte rouge risque de me bloquer dans ma future déco.
Plan B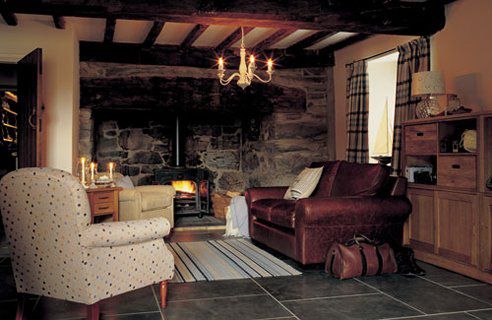 Slate is very popular around here as it used to be extracted in the region and it combines a traditional look and a modern look when it's polished. It does look cottage-y enough in that above picture, doesn't it?
L'ardoise est la grande mode par ici, puisqu'autrefois elle était extraite dans la région (il ne reste plus qu'un lieu d'extraction à ma connaissance). Cela combine à la fois un aspect traditionnel et moderne, surtout lorsqu'elle est polie comme ci-dessus. Cela reste très "cottage" car la teinte sombre donne un côté chaleureux.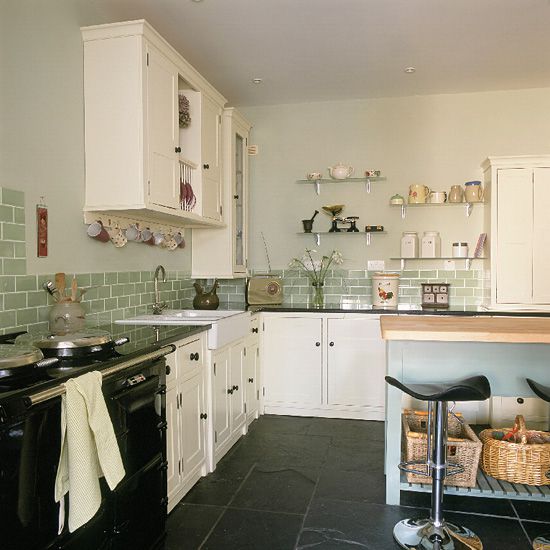 It also looks great with a white kitchen, which is probably were I'm heading towards later. I like the unevenness (is that a word?) of this one.
Side note for my "Little Mam" who's also remodeling her kitchen: Maman, as-tu remarqué le carrelage vert pâle au dessus du plan de travail?
Cela rend bien avec une cuisine blanche, ce qui est probablement ce que je vais vouloir plus tard. J'aime bien l'aspect irrégulier de cette ardoise.
Slate has lots of qualities... It probably won't be my choice, though. I'm really afraid it will darken the rooms as I have small old windows, which I intend to keep, as to me they are part of the atmosphere of the house.
L'ardoise a plein de qualités... Mais je ne pense pas m'arrêter au plan B. En effet, j'ai un peu peur que l'ardoise assombrisse mes pièces qui ont des toutes petites fenêtres, que j'entends garder, car elles participent au charme de la maison.
Plan C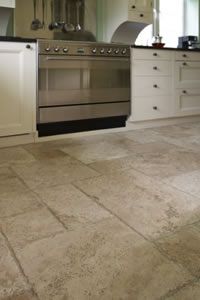 Stone. I love this picture (I don't remember where I found this one) as it's in a white kitchen. On the plus side: it's stone, ergo natural, it doesn't darken the room, the colour isn't even. On the down side: I checked in stores and it's very expensive.
La pierre. J'adore cette photo car, encore une fois, il s'agit d'une cuisine blanche. Côté positif: c'est de la pierre, donc c'est naturel, cela n'assombrit pas la pièce et la couleur n'est pas uniforme. Côté négatif, c'est très, très cher.
Plan D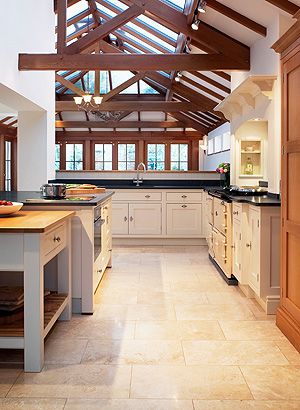 There are some awsome fake-stone tiles in some stores (as well as awful ones in other stores)...
Mais il y a de superbes imitations dans certains magasins... et de très moches dans d'autres...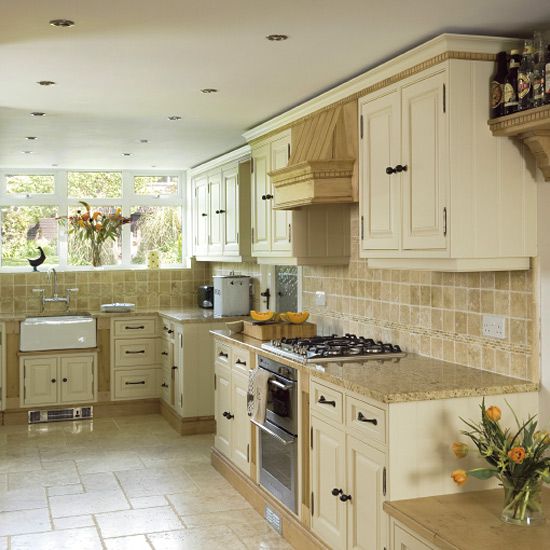 It's still more expensive than regular tiling, especially if you want the colours to be slightly uneven, but easier and cheaper than real stone... So I think I might stop at plan D (I know, you're all relieved!).
Cela reste plus cher que du carrelage uniforme (plus il y a de moules pour faire les carreaux, plus c'est cher), mais c'est plus facile à poser et plus abordable que de la vraie pierre... Et je vais donc peut-être m'arrêter au plan D (et oui, j'entends votre soupir de soulagement!).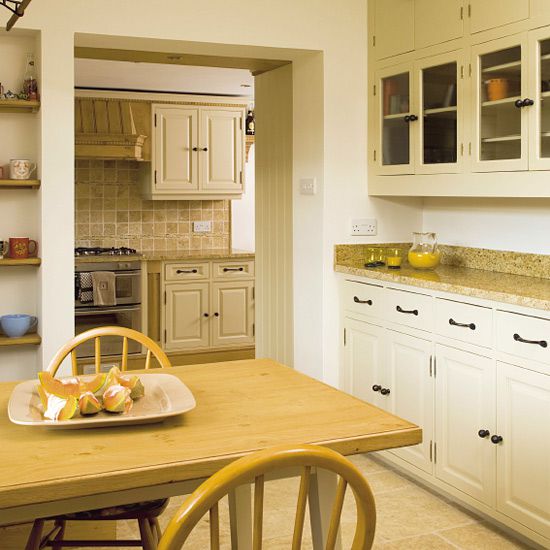 All these inspiring pictures (except for the one real stone flooring one and the one with the veranda-looking ceiling) are from the awsome site House to Home.
Toutes ces photos qui forment la base de mon inspiration actuelle (à l'exception de deux dont l'origine s'est perdue quelque part dans ma mémoire) sont tirées du site: House to Home.
That's all... until I have an idea for a Plan E!!!
Voilà! C'est tout, jusqu'à ce que le plan E germe dans ma tête, du moins!

Thanks for your comments in previous posts: they make me happy and give me new ideas...
Merci pour vos comentaires dans les articles précédents: cela me fait plaisir et cela me donne de nouvelles idées...
I'm linking this post to the alwasy-crowded-with-good ideas "Weekend Wrap Up Party" at Tatertots and Jello. Please clic on the button to check everybody else's wondeful ideas.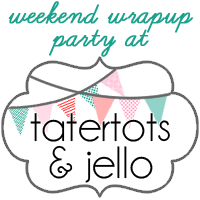 Little White House xxx